John Reinhart's January 7, 2012 Antique Auction in Plattsburgh, New York For Sale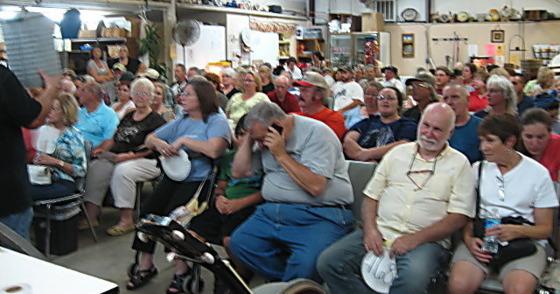 Seller:
Type: Art & Antiques, For Sale - Private.

* 278 Photos - Lots More Soon at AuctionZip *
This auction will feature antique furniture & primitives from the Midwestern US. Including fantastic paint decorated demilune commode with floral decor; 8 piece mahogany Chippendale dining room suite w/table, set of 6 chairs & sideboard; dropfront desk w/bookcase above; ornate 5 piece mahogany bedroom suite w/full size bed, chest of drawers, vanity, vanity bench & nightstand; walnut xxxx's Queen Ann bookcase by the Colonial Desk Company; mahogany triple dresser; pair maple twin beds; walnut full size bed; mahogany Duncan Phyfe sofa; mahogany dropleaf coffee table; pair mahogany leather top lamp tables; paint decorated desk w/floral decor; paint decorated chair w/floral decor; marble top wrought iron lamp table; Queen Anne wingback chair; needlepoint wrought iron bench w/love birds; walnut console table; round mahogany coffee table; brass tray folding table; oak sewing stand; 3 piece brass & glass coffee table set, burl walnut gentleman's chest; 6 piece "genuine mahogany" Chippendale bedroom suite w/full size poster bed, chest of drawers, vanity, wall mirror, vanity bench & nightstand; Drexel mahogany full size bed; Turn of the Century style walnut slant front drop front desk; mahogany serpentine front dresser; mahogany wall mirror w/broken arch crest; mahogany vanity; mahogany shield shaped wall mirror; mahogany drop leaf table w/leaves; set of 6 mahogany dining chairs; walnut 2 piece Retro bedroom suite w/full size bed & chest of drawers; walnut 3 piece Retro bedroom suite w/full size bed, chest of drawers & vanity; mahogany drum table; 2 floral decorated card tables/fireside screens; 3 Retro Chairs; Retro dropleaf dinette table; pair Retro dinette chairs; early xxxx's mahogany china cabinet w/glass door & matching sideboard w/mirror backsplash; 4 piece depression era bedroom suite w/full size bed, chest of drawers, dresser w/mirror & nightstand; ornate burl walnut xxxx's French style vanity/desk; paint decorated Martha Washington style sewing cabinet; lamp table w/stretcher base; Victorian style pillow back chairs w/floral needlepoint upholstery, Martha Washington style sewing cabinet w/Oriental decor; pair mahogany twin beds; walnut 3 tier pie crust shaped table; Pembroke style mahogany drop leaf lamp table; Victorian style beveled glass mirror; Italian style console w/floral decor; mahogany butler's serving tray; mahogany 2 drawer nightstand; mahogany slat back side chair w/ carved crest; gold gilt frame oval shaped mirror; mahogany pedestal base 2 drawer stand; mahogany drop leaf serving cart; mahogany coffee table w/cross stretcher base; 4 piece mahogany bedroom suite w/full size poster bed, chest of drawers, dresser w/mirror & nightstand; pair Retro folding chairs; pair Retro stools; Retro dinette table; set of 4 Retro dinette chairs; school desk w/chair; tile top coffee table; porch swing; bird cage; floral oil painting by Roger Shaffer; Ace Special push lawn mower, vintage Hercules bicycle; vintage tricycle; vintage amber bottle vaporizer; 4 paper mache duck decoys 2 w/glass eyes; mandolin w/mother of pearl inlay no strings; RRP stoneware bowl white w/blue band; white stoneware gallon crock; brown & white stoneware jug w/lid; stoneware crocks; stoneware jug w/pouring lip; brown & white stoneware 5 gallon jug; brown & white stoneware 2 handled jug; stoneware crock w/blue freestyle design; pair early wood crutches; carved Black Forest walnut eagle match holder; black metal coal hod, unusual one hand key wound clock, Sealtest galvanized cooler; Port Murray Dairy galvanized cooler; unusual bakelite Western Electric crank wall telephone; 2 crosscut saws, single trees w/red paint; early wooden shirt ironing board;vintage bakelite crank wall telephone; Barooue by Godinger flatware; pair xxxx's ornate walnut twin beds; Drexel Paint Decorated Bachelor Chests; Turn of Century mahogany lamp table; pair maple twin beds; paint decorated serving cart; 2 oak pedestals; magazine racks, vintage dress form; male mannequin; several ladies fur coats; mink furs; glass hand ring holder; porcelain hand ring holder; Oriental jar; early coffee pot; picture frame w/bronzed baby shoes; early electric wall clock; xxxx Coca Cola Georgia Bulldogs tray; vintage world time clock; flatware; The Rolling Stones - Love You Live Album; Rolling Stones exclusive recording; Rolling Stones xxxx postcard; Rolling Stones Fan Club literature; Mick Jagger photo xxxx; Keith Richards photo xxxx; Charlie Watts photo xxxx; Ron Wood photo xxxx; Bill Wyman photo xxxx; Rolling Stones poster xxxx; Mick Jagger - She's the Boss album; The Beach Boys Live in London album; Atlanta Rhythm Section - Underdog album; Led Zeppelin IV album, The Beatles at Hollywood Bowl album; Dan Fogelberg - Souvenirs album; Dan Fogelberg - Captured Angel album; Dan Fogelberg - Phoenix album; Dan Fogelberg - Home Free album; Dan Fogelberg - Greatest Hits album; Dan Fogelberg - Nether Lands album; The Allman Brothers Band - Eat a Peach album; Statue; xxxx's era mantle cock; wall plaques; Softly the Sun Sets xxxx Plate; Retro table lamp; Dizzy at Home and Abroad album; comic books; Oriental motif table lamp; milk glass wall lamp; milk glass table lamps; pair Retro table lamps; porcelain lamp w/horses & chariot; bird carving; vintage bell; cookie/craker jar; tea pot; owl music box; early print in Victorian frame; vintage prints; early porcelain doll; Eclectic Physical Geography - Copyright xxxx Van Anterp Bragg & Co; Martin Chuzzlewit w/xxxx hand written date; vintage smoking monkey toy; ornate xxxx's era wall mirror; coal hod; Taylor Tot baby stroller; vintage religious print; vintage print of young girl; china bowl & pitcher; stoneware bowl; bee hive 5 gallon jug; 4 gallon stack jug; bee hive jug w/spout; stoneware crocks; vintage vaporizer w/amber jar; duck decoys; Gone With the Wind lamp; pair ruby glass electric table lamps; International Siver Company tea set; mandolin missing strings; tole painted trays; xxxx Ford Galaxie owner's manual; vintage print of young girl & dog; paint decorated lamp table; Port Murray Dairy cooler; vintage leather case; world globe on stand; primitive hay knife; folding foot stool; heart shaped carpet beater; pair wooden crutches; McGuffy's Fourth Reader w/xxxx Copyright; Harvey's Revised English Grammar; Numbers Illustrated w?Copyright xxxx; McGuffy's Fourth Reader w/Copyright xxxx; Book w/xxxx Copyright; decanter in box; jewelry box; primitive tools; Blue Anchor shipping box; Sealtest Dairy cooler; primitive ironing board; xxxx School & Library Atlas; cattle dehorner; primitive clothes dryer; pair painted single trees.
* xxxx Antique Auction Schedule *
We are now featuring antique auctions the 1st & 3rd Saturday nights of each month. Be sure to check back often as we will be featuring hundreds of photos for these monthly auctions.
Jan 7 - Jan 21
Feb 4 - Feb 18
Mar 3 - Mar 17
Apr 7 - Apr 21
May 5 - May 19
Jun 2 - Jun 16
Jul 7 - Jul 21
Aug 4 - Aug 18
Sep 1 - Sep 15
Oct 6 - Oct 20
Nov 3 - Nov 17
Dec 1
The 1st Saturday of the month auction will feature mahogany, maple, oak, pine and walnut furniture from the Midwestern US plus a large selection of primitives. The 3rd Saturday auction will feature a large trailer load of antiques including furniture, primitives, glassware and collectibles from homes and estates located in the Northern US plus local North Georgia antique consignments.
* Starting Time *
Doors open at 5:00PM for preview. Starting auction at 6:00PM with antique furniture & alternating with smaller antiques and primitives throughout. We expect this to be a 5 hour fast paced auction?
* Auction Terms *
A bidding number is required to bid and can be obtained by furnishing proper ID when checking in. A buyer's premium of 8% is charged which is discounted to 5% for cash. Sales tax applies to all purchases unless you are tax exempt! If you are tax exempt please be prepared to fill out a tax exempt form and provide a copy of your Sales Exempt Certificate. All merchandise to be paid for the day of the auction! We accept CASH, CREDIT or DEBIT, MC, VISA, DISCOVER & now accepting AMERICAN EXPRESS.
* Customer Convenience *
If you have not yet attended one of our antique auctions? I believe you will find that we have a lot to offer! From our parking lot which will easily accommodate most any size truck or trailer. To our modern climate controlled xxxx square foot non-smoking auction gallery which features lots of comfortable seating. We also have a fully stocked snack bar for when you get hungry or thirsty. To speed up customer check in and check out we use a fully computerized auction clerking system. For customer convenience and to reduce check out time we wrap and pack each of your smaller purchases such as glassware and china while the auction is in progress. After the auction ends our floor help is available to help with loading your auction purchases. Auction pickup is also available the following day (Sunday) from 12PM to 4PM with help available for loading larger items.
* Free Antique Furniture Delivery *
Free delivery is available for North Georgia and Metro Atlanta customers that buy more or larger pieces of antique furniture than they can haul at our monthly antique auctions. Some of the locations that I have delivered antique furniture to include Alpharetta, Buford, Canton, Clarkesville, Commerce, Cumming, Dahlonega, Dawsonville, Decatur, Demorest, Flowery Branch, Gainesville, Loganville, Marietta, Roswell and Statham. Please ask about your location!
129S Antiques & More's Auction Gallery
* Our North Georgia Auction Gallery Location *
We are located between Cleveland and Gainesville, Georgia at xxxx Hwy 129 South near the White/Hall County line. Next door to RUBENS OUTLET and Skitts Mountain Storage. If you need additional directions? Please call Connie at 706-892-xxxx.
* Auction Consignments *
When the auction is too small, large or much work for other companies. Call 129.S. Antiques & More Auction! Our professionally licensed Georgia auctioneers can quickly turn your treasures into cash. Our auction team has the knowledge necessary to liquidate antiques, antique furniture, collectibles, home furnishings, firearms, jewelry, gold, silver, North Georgia pottery, farm machinery & excess business inventory. Our staff has experience in planning, promoting and holding successful Georgia estate, personal property, business & court ordered auctions. We work hard for our clients and have thousands of auction photos, YouTube videos plus letters of recommendation to prove it. Call or email Connie for a free consolutation 706-892-xxxx, or auctionsconnie@yahoo.com
Georgia Auction License: AUxxxx98

Price: $371


Price: $1,600


Antique gold Jewellery
This is antique necklace set in gold and diamond Polki- rose cut diamond We have huge collection in antique...
Price: $14,000